BuzzardsRoost
Easter 2008:

New: A very professional take on this rescue here.
(scroll down to Good Samaritan....)



Photos Below..


Our neighbors, Kevin and Lynn, with their daughter and son in law, take a boat ride with us to search for whales. The result includes a boat on fire, a whale and the Coast Guard (Okay, a fire boat and Harbor Patrol and people in the water too.) Intrigued? Read on.

Our 24 foot Bayliner, the "Do It Now," was freshly waxed and due for a day at sea. Despite the stress of a real estate deal in the works, our neighbors with their daughter and son in law decide to take a break and enjoy the beautiful 70 degree temperatures and go look for some whales in the Channel Islands. We got a bit of a late start so the seas were a smidge choppy and the Bayliner was pounded into the waves - well maybe that was in part caused by over aggressive Capitan Bob. Despite our best efforts and about two hours at sea, we decided to cruise home. (No whale)

"Pan, Pan, our boat is on fire" crackles over the radio, which catches all of our attention. We heard "no life vests" and the "location is 1/2 mile outside Channel Islands Harbor." We look around and see the burning boat about 1/4 mile from our location. I throttle up and turn toward the boat, asking Kevin (a 100 ton Captain) to manage the rescue operation. Kevin immediately makes requests to everyone aboard for life vests, ropes, flipping out our ladder, etc. The folks on the "High Velocity" have abandoned their burning yacht and are clinging to their single round life preserver. Camber sights two folks and calls out the location of people in the water. We maneuver in and get them aboard - no others? No others, we have every one off the burning yacht. The Harbor patrol approaches and confirms all people are off the burning boat, then asks us to back away for the fire boat approaching. As the Coast Guard boat arrives, a whale appears to the South. I call "Whale" and point. We all watch the whale break the surface, including a full tail, as the rescues are wrapped in towels and jackets, trying to warm them up from the chilly water. We transfer our visitors to the Coast Guard and cruise home.

Need proof? Pictures below.

Us, Harbor Patrol, Fire boat, Burning boat ( High Velocity)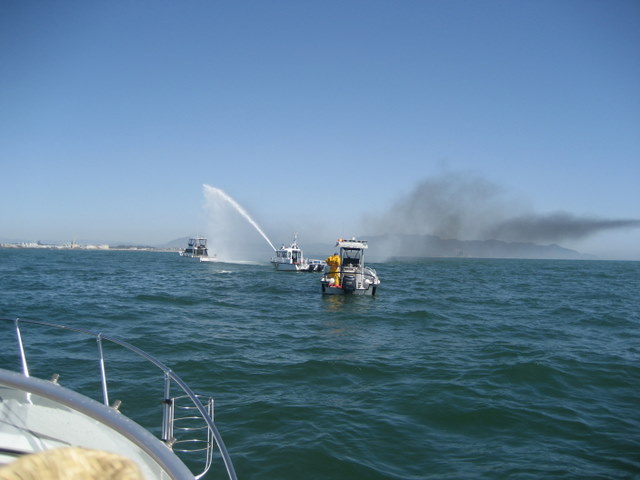 Same, closer.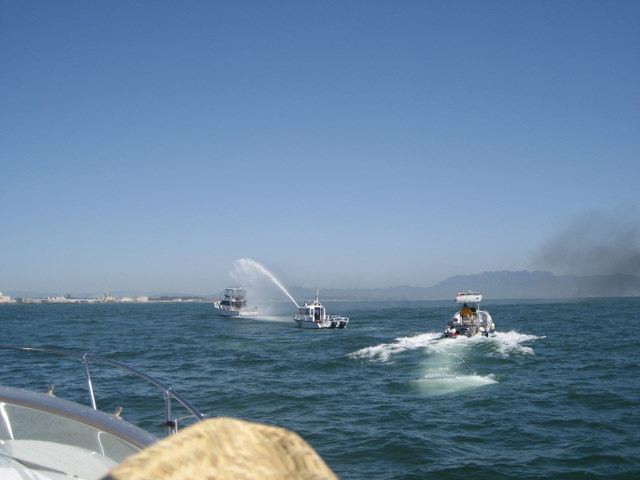 Our guests now aboard the CG Vessel.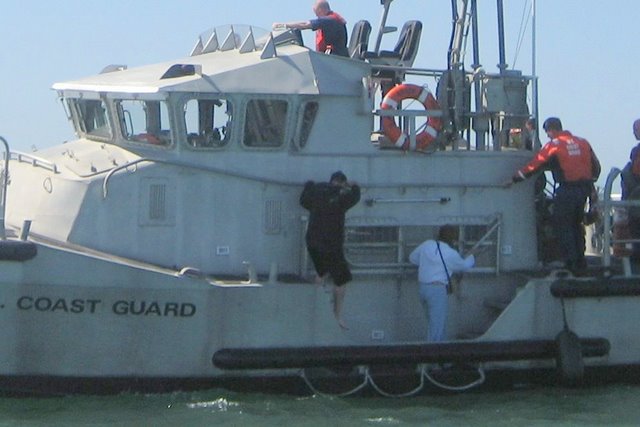 Fire Boat doing well.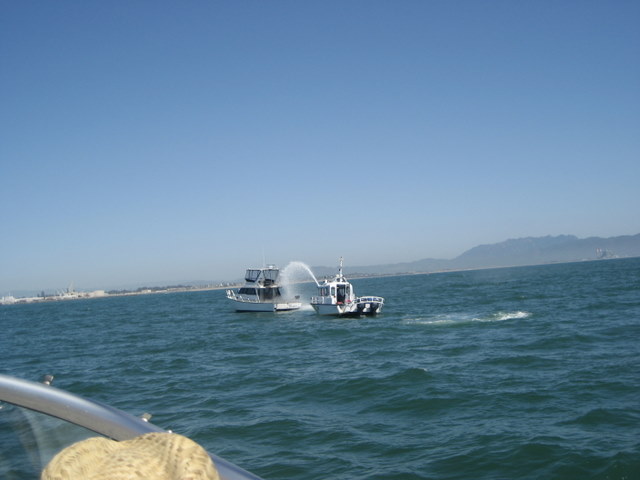 Happy crew, mission accomplished. Captain Kevin, Harbor Patrol, Coast Guard.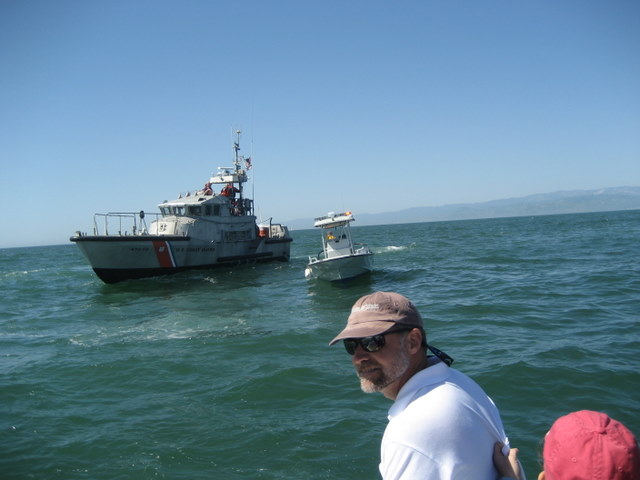 Here is the official version! It is wrong, a little.
Pair jump into ocean as boat catches fire
From staff reports
Monday, March 24, 2008
An Oxnard couple had to dive into the water Sunday afternoon to escape their burning motorboat, a Ventura County Fire Department spokesman said.
The couple, whose names were not released, were not injured, but the two had to be plucked from the water by the Channel Islands Harbor Patrol.
The 33-foot motorboat caught fire about 3:30 p.m. off Silver Strand Beach near the entrance to Channel Islands Harbor.
The Coast Guard, a Ventura County Sheriff's Department helicopter and members of the Ventura County Fire Department's water rescue team assisted in the emergency call. A water cannon on the Harbor Patrol boat was used to extinguish the blaze. Firefighters then boarded the vessel to complete the task.
The boat was later towed into the harbor, officials said.
Other Family style links

Mexico
Fire
Alaska
Zuma
Dolphin
(Photos prior to purchase of Oxnard home.)
Dock
Report Broken Links Here